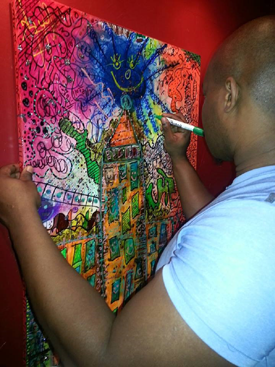 Experience the Energy of Artist Rashawn Taylor
Innovative Artist Rashawn Taylor's first introduction into abstract impressions was the 3rd grade.  He couldn't draw, so his teacher taught him how to mix colors with crayons.  He soon became a master of abstract art.  By the time Rashawn reached High School, people in the professional area began to take notice of him.  He received the coveted "Chicago Tribune Achievement Award" and went on to become one of the prestigious inductees to the Chicago Tribune's "Hire the Future" program.
He does with digital what some people do with paint.  Digital art colors are the hardest colors to work with because they can become muddy.  However, Rashawn has devised a way to use multiple colors to make his art pop and with its high resolution, give his art the ultimate vibrancy.  According to Rashawn, "Art should be living and breathing, if you can focus on that one red dot you can branch out from there; the possibilities are endless. (Glen Murray)
Rashawn takes the world by storm through abstract fashion, mixed media art, digital art, and much more!